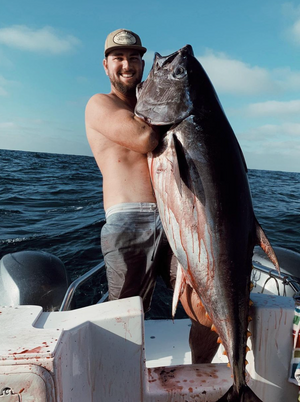 James Fisher
Licensed USCG Captain
Alohaaaaa
I'm Captain James Fisher. Born and raised in Kailua Hawaii where fishing and being on the water is our way of life. I moved to san diego in 2010 and fell in love with it- especially the fishery.
I've been a charter captain here since 2017.
I take tremendous pride in my work. The boats are clean, I have the best fishing tackle available, and am obsessed with catching more fish than any other small boat operation out there. Come bring your family and friends for an unforgettable experience!
Captain James on the 28' Boston Whaler
I have had the opportunity to fish a number of times with Captain Fisher. We have never come back without fish in the box. His passion for fishing is clearly depicted through his work. Accepting nothing but excellence for him and his crew while providing the best service possible. His attention to detail and charismatic energy makes for an enjoyable experience on the water. Safety is always a priority for him and he goes to great lengths to make you feel safe in any conditions. I won't be going on any other charters now that I have a taste of what Kealani Sportfishing is all about. If your looking for an amazing day on the water filled with great laughs and an exceptional experience look no further. Captain Fisher will make sure you are taking care of from the minute you leave the dock till your afternoon arrival. If your an experienced angular or just someone looking for their first trip. James has you covered making sure you will have an enjoyable experience. I asked James what does he love most about being a captain. He stated " I love fishing with those who go all the time and I love bringing new people into the sport. I don't want them to get discouraged! If I can provide them with an experience they will never forget I know I have hooked one more person into the sport I have so much passion for." Nothing but 5 stars for this growing company. I look forward to the fishing trips to come!
Clint H.
Captain James runs a very professional operation. It's always a great time on the water. He provides excellent company along with years of experience on the water. He will put you on the fish and will take care of all of your fishing needs. Couldn't recommend this charter more if you are looking to spend an awesome day on the water!
Joe W.
Captain Fisher goes above and beyond to provide best of class service to his clientele. After experiencing a private charter with James, I don't think I will ever go back to fishing on the larger boats. His knowledge of local fishing spots and the right tackle/baits to use takes your fishing to the next level. The boat is incredibly spatious, I can't wait to take my family out next time.
Taylor C.
My boss was in town and I wanted him to experience an epic fishing trip. At the end of the day, he'd caught his first yellowtail and the biggest fish he has ever caught. James is very knowledgeable about the local islands and even when fishing is slow he makes it a good time.
Dave D.
I have fished with Captain Fisher multiple times and it's always been a great time. I was very new to the saltwater fishing game and Captain Fisher was gracious, taking his time to teach me any chance he got, without making me feel dumb.  It is very clear that his goal is to get people out fishing in a way that guarantees a good time. I would 100% recommend this company and will be chartering this company again this year.  I was able to catch my personal best Bonito with Captain Fisher and eat tit that night for dinner.
Dez I.